Invoice editing of repairs, services and contracts

* Flexible Input of invoices due to different cicumstances concerning
equipment with or without stock-number or contracts
* Universal search routines for invoice data (i.e. Invoive-no, -date, -amount )
* Excellent table overview of all invoice data
* Simple selecting and editing routines
* Connections to companies via enclosed adress directory
* Quick cost overview by input of current year
* Calculator with tax function
* Connection to the order section of MEDOC via order no.
* Easy reports with Crystal Reports listing generator (ver.11.0)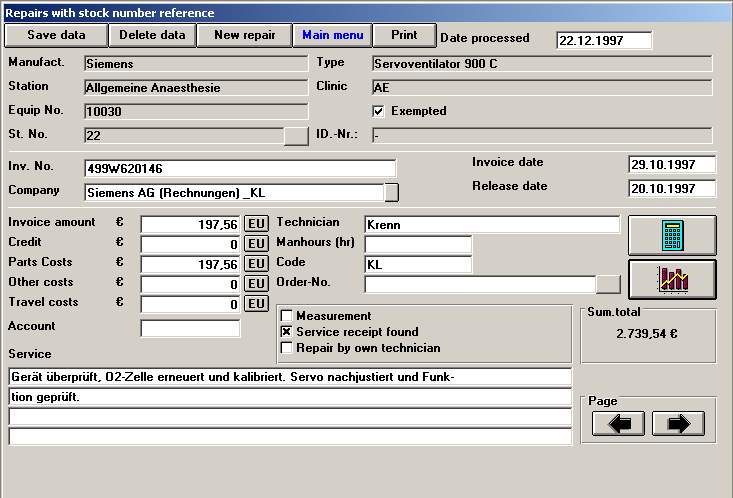 Due dates

* Universal due dates overview for safety inspections, calibrations,
x-ray rechecking
* Assorted output by different criteria
* Preferred due dates output by clinics, stations, departements,
type-models, stock-no.
* Due date by date input
Safety inspections

* Holding data of safety inspections, calibrations
* Stock data connection
* Tablebound overview over all SI-Data
* Automatic takeover of IEC 601 data into editing form
* Special fields - text data input up to 65000 letters
* Stock data view available
* Connection to regulation directory
* Remote control for different electrical safety checkers
* Transfer of measurement data
* Regulation data-control of limit values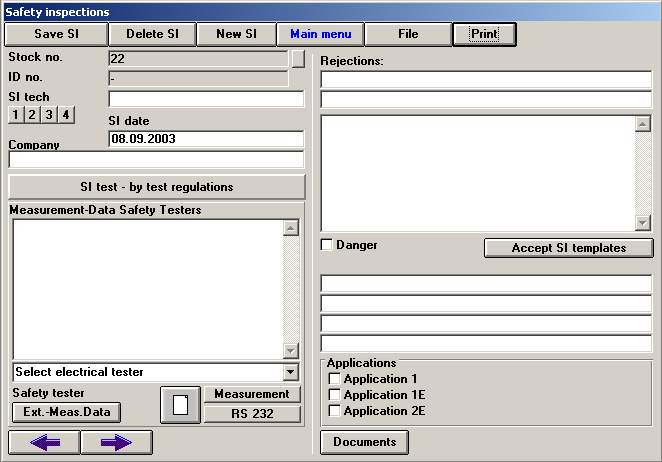 Data transfer (Extra module)

- Data transfer of all stock data to portable Notebooks via Diskettes
(also ZIP-Discs or removeable media) datacompression
- Flexible handling of stock data
- Transfer back of SI-data, instructions and stock data (new or changed)
into the main-PC (Mainframe)
- simple handling of data connections
Directories

- Reasonable catalogue system for clinics (clients), stations
and departements, type-model directory,adresses of companies, contracts,
costcenters, SI-companies
- Automatic catalogue data transfer in all sections of MEDOC
Regulation catalogs for
- IEC 601 / IEC 62353
- Infusion (IV) pumps
- Electrical stimulation therapy
- High frequency cutters (electrical surgery)
- Ext. Pace makers
- General electrical inspections
- Visual inspection
- Updatefunction for IEC-regulations
- Extension functions for all regulations
X-Ray

* Extra form for handling the paper work of all x-ray data
* tube change
* chassis change
* safety reports
* Overview over all certifications
* 5-year-rechecking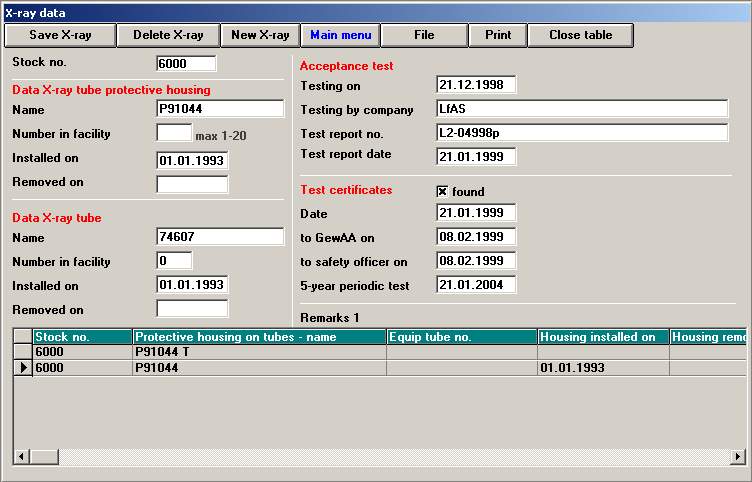 Bed maintenance
Serviceinterval control by barcode readers



A brandnew feature in MEDOC enabled by connecting an external
industrial barcode reader to your PC provides fullautomatic bed
maintenance. This provides supervising capabilities over all washed beds.
An alert presetting feature sets a pregiven washing interval.
An alarmsound occurs when the pregiven interval is reached.
Intention is to reduce costs in repairs and service. Regular service
minimizes changing parts.

This also provides a complete overview over all washed beds.
Required for this system is a professional industrial barcode reader
and waterproof barcodes on beds.

Safteytest-Option : Now you have the possibility to check the approbiate due dates
for electrical safety tests. Every time when a bed is checked the due date
will be checked too. An alarm sound occurs when the safetycheck has to be done.
Note : The alarm sounds can be done yourself through Windows. It concerns
just simple WAV-files. It is only necessary to have a soundcard onboard with
approbiate speakers.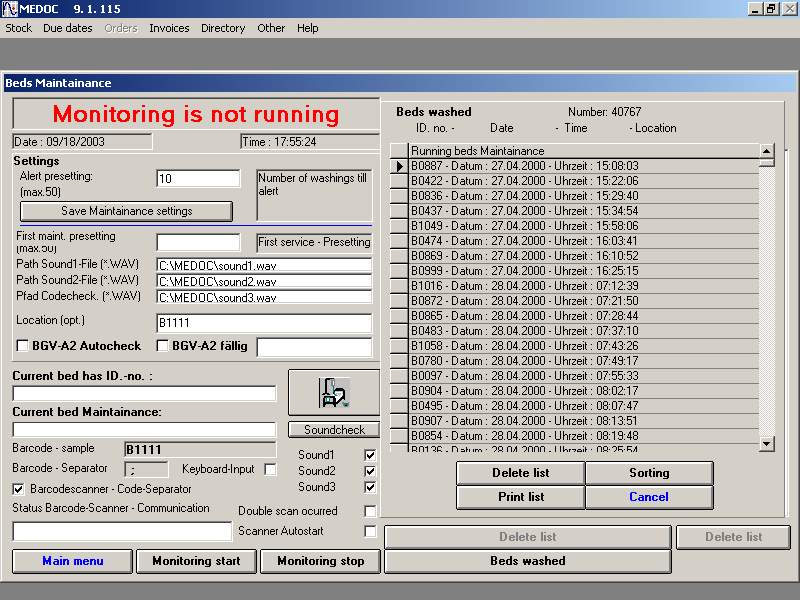 Order & Service Administration (Extra module)

* Supervisor functions for repairs
(Entry, release, repairs to and from companies)
* Automatic or manual repair number
* Electrical safety check - connection to measuring data
* Search function for all repair data
* Stock data connection via stock no.-automatic window
* Short statistics -compares company- and own technician repairs
* Print functions for order forms
* Parts management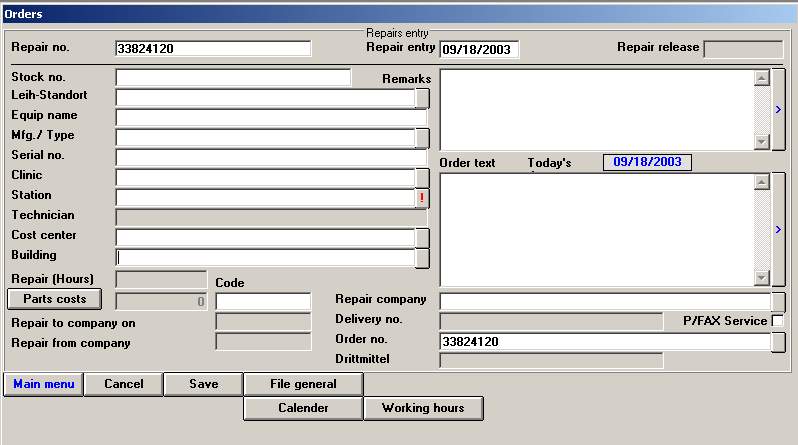 Statistics and Reports - Crystal Reports - Seagate Software

* Flexible database queries for easy to create reports and statistics
* Huge directory of existing reports
* Screen preview before printing reports
* Diagrams for presentation
* Many printing possiblities
* New - Automatic collected SI-data list in tablefrom for safety inspection
companies - easy collects all SI-tests done for later printout or
exporting - external database
* Including company logo via Crystal Reports

System Requirements

* IBM-compatible Computer with Pentium (400 MHz or higher recommended)
* Windows 95/98/NT4.0/2000
* 32 MB RAM or higher
* Harddrive with at least 50 MB free space
* Network compatibility - Novell, Windows NT
Features by short

Huge equipment management - under respect to existing laws
(IEC 601, FDA, VBG4, X-Ray, Calibration, MPG)
- Stock data and and equipment lifetime overview
- Due dates for Safety Inspections, Calibrations , X-Ray
Equipment lifetime book with built in service- and invoice handling
(Equipment with or without stock no.)
- Directories for clinics, stations, departements, type-models,
cost centers, companies, SI-companies, contracts
- Data connection to external PC's (Notebooks) and measuring systems.
- Cost analysis, overviews, contracts, -administration etc.
- password for SI-data and catalogues (separated)
- Microsoft-ACCESS-Dataconnection (provides the flexibility in
creating own database reports-cannot be provided even by large
database software)
- Crystal Reports Listing generator by Seagate Software
(creates comfortable queries and visualizes your database -
premade reports enclosed - own reports - for distribution -
compiling EXE-report-files possible)
- External data connection - import of stock data
Export of Safety Inspections - new and edited stock data
OPTIONAL AVAILABLE

- Type-model directory with more than 5000 type-models
- Network capability
- ACCESS-Database - converting old databases from DBASE,
FOXPRO,DBASE,EXCEL etc. possible (by order)
Who needs MEDOC :
- 1st all clinics, hospitals and private practices having medical equipment
that needs to be checked regulary
- For all companies servicing medical technical equipment
- For calculating costs of contracts and repairs under the additional need
having an overlook over the equipment
- Actually all purposes to maintain electrical equipment
References - Germany :
University Hospital
- Klinikum rechts der Isar der Technical University Munich
- Medical departement (45 licences)
- Technical dept. servicing 32000 med.machines
Community Hospital Immenstadt
Hospital Stadelheim / Munich
Lung Clinic Ballenstedt
University Hospital - Klinikum Jena Friedrich-Schiller-Universität
Community Hospital Kösching
Vinzentius Hospital Landau
City Hospital Neuperlach Munich
SI-Company Meditech München
SI-Company-Office Davari Ingelheim
SI-Company Bachinger Rednitzhembach
SI-Company ProMedTec GmbH Munich
Hospital Jerusalem Hamburg
City University Hospital Innenstadtklinikum Munich
City Hospital Pasing Munich
Community Hospital Rosenheim
SI-Company Essen
Hospital Prien
Hospital Wasserburg
Hospital Lindau Bodensee
Clinic Stuttgart


back